Morris Hayes / Prince

Keyboardist and music director for Prince. Has worked with Maceo Parker, Elton John, Herbie Hancock, Lenny Kravitz and many more.
"The OP-X PRO-II is hands down the closest thing to our OB-8 to date! It is fat, flexible and runs like a dream on my Openlabs units. I use it heavily in the shows. I also get to run multiple instances of the instrument which is very cool! This plug kills!"
Neil Palmer

Keyboard player and producer of Xavier Naidoo. He uses OP-X PRO-II live and in the studio with a Muse Research Receptor.
"I'm a cynical purist - I own a lot of original analog gear, but the OP-X PRO II made me think about putting my originals under dust sheets! Fat, punchy, with faster envelopes than my Oberheim Xpander - and I'm not scared to take it on tour with me!!!"
Neil Palmer has provided some presets in the user area
Palmer Mod Clav: listen
Shuko

Multi platinum music producer. Credits: Lil Wayne, Sido, Birdman, Omarion, Young Money, Snoop Dogg, Gimma, Bligg, Bandit, Keith Murray a.m.m.
"Hands down this vst synth is one of the best emulations I ever worked with! OP-X PRO-II sounds real huge, I was suprised how realistic the basses and leads sounded. I had the chance to work with an original OB-Xa and this emulation is coming real close. It's actually a lot fun, fast loading of the presets and a big libary make it easy to get stuff done quickly."
Bas Bron, Seymour Bits

Multi award winning Producer & Artist. Credits: Bastian, Seymour Bits, Comtron, DJVT, Magnetron Music
"To my ears this sounds like a real synth. A lot of VSTi's sound indistinguishable to me but this is one of the few I can actually recognize. It's hands down the nicest sounding synth plug-in I ever tried. Growing up I was listening to a lot of The Time, Prince and Van Halen always thinking "What the hell is this synth..". All I knew was that getting the same almost organ-like bigness from the synths I could get my hands on was never going to happen. So this is a dream come true. Support is lightning fast and of the highest standard. Patches are, for once, great and usable. And, it's affordable. So a big hurray for sonicprojects. Come on, everybody now. Oh! and the panning per oscillator feature is brilliant."
Listen to OP-X in their new videoclip
Jon Rydningen, Oslo Recordings

Credits: Adoro, Alexander Klaws, Gloria Gaynor, Hanna Pakarinen, Maria Arredondo
"To me the OPX sounds absolutely fantastic. With an extensive collection of hardware synths and all the soft synths available in my possession, I could not anticipate how much joy I would get from the OPX. It outperforms most of my other softsynths in sound and ease of use, and most important, pleasure and inspiration. I expect something from "analog" that the OPX delivers and the others don´t. It even gives new life to Reaktor, which I somehow had left untouched for quite a while. OPX presets are, in addition to great starting points for new sounds, an almost complete collection of the sounds that got me into synths in the first place. The downside to all the goodness, is that the myth that you get what you pay for in terms of price/quality is demolished. In this case the best sounding and most fun instrument is by far the least expensive."
Andy Prinz

Platinum awarded music producer and composer. Credits: DJ Tatana, Jaro, Friends Of Street Parade, Asturo, Glamotronik a.m.m.
"I really grew up with analog synthesizers and used to have a variety of different outboard gear. But since the amazing revolution of Digital Workstations and the digital domain in general, I use tons of plugin's and virtual instruments, along with some hardware synths I've fortunately kept. But I had always missed the warmth and the analog and organic sound in VSTi's, so I combined both worlds in my studio environment. Just recently I came across the OP-X Pro II, checked it out and instantly fell in love with it…!!!!! The presets blew me away and after the first tweaks and sessions, I was sure that this VSTi would become my favourite analogue emulation instrument ever, no doubt! I used to own an Oberheim Matrix12 but I had sold it years ago - now I got the Oberheim sound back in my studio, thanks to the guys at SonicProjects! Well done!"
Michel Huygen / Neuronium

Michel Huygen in an electronic music legend. He has sold more than one million records with Neuronium and other projects. He also has worked and played together with Vangelis in the early eighties.
"I recently got the VM Bundle for one of my V-Machines, and sincerely it's absolutely perfect to use! I owned and played the OB-X, OB-Xa and OB-SX 25 years ago and I can't hear a difference in terms of punch and quality of synthesis. Plus it's always tuned! Very light in terms of ram and cpu use. Fantastic for my live shows!"
Robert Karasek

Award winning keyboard player, musical director and sound designer. Uses OP-X PRO on stage and in the studio with Muse Research Receptor.
"I was looking for OBERHEIM emulations for ages! OP-X is a beast! The sound engine does a brilliant job - warm, fat.. all you want to expect & hear from an OBERHEIM-plugin. The filters are top notch. Easy use of controllers in realtime. Typical original characteristics were included. In biref: Fantastic VST - an instrument I don't wanna miss especially when touring with my show productions. Thanx, sonicprojects! "
HB3

Upcoming new album "The Veldt" - mysterious, deep, diverse, simply magic. Synth magic is with him.
"The OPX is a raw and animalistic in a world of "watery" digital synths. It springs out at you and demands you ignore its digital origins...and you do. The sound is immediate, present, without the slightest "veiling" typically associated with digital instruments. The sample and hold "circuit" is fantastic, as is the multimode filter. Sonic purists will find not just the Oberheim X, but the sonic characteristics of the period in general -- its style, its personality -- effortlessly conjured. Those inclined to re-create video game parlors circa 1982 or 8-bit intergalactic war can easily do so. It's amazing how much it can do, and how good it sounds. This is a breakthrough."
Chris Holloway, Analogueplanet

Chris Holloway got known with his film music tracks for Showtime Broadcast and is a long time owner and user of various alalog synths like Jupiter-8, OB-Xa and OB-8. Nevertheless he swears by the sound of OP-X
Listen to two tracks he made with OP-X. All sounds are coming from OP-X Reaktor hosted by Ableton Live, exept the drums which were done with an Oberheim DMX and Simmons drum:
Track 1: listen
Track 2: listen
Real authentic 80ies feeling, indeed!
Ted Perlman, Producer/Composer/Engineer

Ted Perlman works and has worked with some of the biggest names in the business as well as for major TV- and filmstudios. His credit list includes names like Chicago, Bob Dylan, Leonard Cohen, Dolly Parton, Ike Turner, Elton John, and many more.
"I have to tell you the truth. I was really mad when our keyboardist back in the 1980's traded his Prophet in for an OBX-a. Why? Because the original OBX-a never sounded as good as YOUR OPX. Your instrument is BRILLIANT! It sits so well in a mx, whether it's up front or mixed down. It has what few softsynths ever achieve - CHARACTER! That is the unique quality that a 30 year old Fender Strat has, a Steinway piano, a great vocalist, etc. You have actually surpassed the original OPX in sound, reliability, user friendliness, and quality. Bravo!! - Ted Perlman"

Louie Stephens, Rooney
"Awesome vst. I'm using OP-X live and in the studio. The unique building structure and seperate voice design sets sonicprojects apart from all my other virtual synths. So happy this product exists! I'll be watching very closely what else sonicprojects has in store for the future."
Robert Enforsen, Elegant Machinery

The voice of Swedens best known synth pop export
"In the search for VSTi replacements of the analogue synths we used to play in Elegant Machinery back in the 80's and 90's, we painfully realized that there are loads of software manufacturers out there, claiming that they have the perfect clone to offer. Unfortunately, this is not true… What's true though, is that SonicProjects, among very few manufacturers, really are telling the truth - and that's with straightforward dignity! The OP-X and the OP-X Pro offer that fat, sparkling, fluffy and screaming sound that made the analogue Oberheims so wanted, still to this very day. OP-X and OP-X Pro have made our studio lives a lot easier to handle. If you want the true sound of the Oberheim synth monsters, look no further!
Christian Cullen, Night Ranger

Session & touring keyboard player / producer

www.myspace.com/christianmcullen

Has worked with:

Alan Parsons, David Cassidy, Eric Rosse (Tori Amos), David Leonard (Prince), Andy Sturmer (Jellyfish), Night Ranger, Pride Of Lions a.m.m.
"I just spent the last 2 hours playing with OP-X, OP-X PRO, and Stringer. These vsti's are drop dead brilliant. I have been using vsti's since the day they arrived and this has been the MOST fun and pleasing set of plugs I've ever used. I was tweaking OP-X and totally forgot that I was playing a virtual. I had it running thru Scarbee Vintage Keyboard efx... totally outrageous. I should mention that I'm EXTREMELY pickey about what plugs I goto as far as sonics, playability, and stability are concerned. OP-X , OP-X PRO , and Stringer MORE than meet these three criteria. Say 'Hello' to the top three slots of V-Stack for the Night Ranger gig!"
Henry Reid, Apsaroke Music

Film, Documentary, TV Composer/Orchestrator

Credits: Dalai Lama Renaissance
"I have been using Oberheim OB synthesizers for over 30 years. OP-X, has the sound, programmability, and additional features, that I can now retire the hardware instruments. It has fit the bill so well, that I am using it in my present film score. Thank you for adding a long awaited software synth."


Rod Abernethy, Rednote Audio
Credits: Soundtracks for Star Trek Legacy, King Arthur for XBox
"The OP-X is brilliant. Even though I've got a real OB-X at arm's length, it's great to have the OP-X at my fingertips ready to go...and it sounds just as good and fat as the original."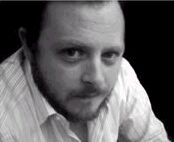 Luca Thomas d'Agiout, Composer/Producer (Archisounds)
Apart from his credits as a professional composer and producer Luca Thomas d'Agiout has made a name with his work for IK Multimedias' Miroslav Philharmonik workstation.
"OP-X is always on top of my list of choices. I really like its presence and timbre, and I use to find it a place on almost every work I make involving synths. It is also one of the few vsti's that i like to keep straight without processing. Great job guys."
Gary Corbett, writer of Cindy Laupers' "She Bop", touring keyboardist for Kiss, Lou Reed, Cinderella, Whitney Houston a.m.m.
"SonicProjects has done an amazing job of recreating one of the most popular and best sounding synths ever made. The oscillators and filters sound fat and warm, and the ability to control the original's subtle tuning characteristics, as well as panning features, make this an immediate favorite. This is the best virtual synth I have ever heard."
Rod MacQuarrie, I SATELLITE, OB-X expert
"I'm normally not a big fan of softsynths, but this clone sounds pretty close to the original. The subtle fluctuations from voice to voice are a great approach. Way to go! For those who haven't been able to track down a real OB-X, or just don't want to deal with the hassles of repairing and maintaining one of these vintage beasts, the OP-X might be the answer. And for the price it's a steal!"
ChipCurtis (kvr)
"...the GUI is insanely beautiful"
Allen S. (OP-X user)
"I have to say that this is the first softsynth since impOscar that I've played (and I've played LOTS...) that has a hardware *feel* to it! Don't know just how to describe the difference, but OP-X will certainly be one of my *go-to* synths for a long while to come!"
Coolredguitar (OP-X user)
www.soundclick.com/coolredguitar
Listen to the song "Imaginary" where the OP-X is used for the clav and lead synth:
"Imaginary" featuring OP-X
"Having a limited budget to own the real deal, the OP-X softsynth sounds very close to the original and will be in use for many years with my sound projects here. Thank you Sonicprojects!"
Patrick Duggan, Synthesist, OP-X user
"I've got almost every softsynth I think, from all the major companies, but nothing gets me these sounds. Playing the OP-X I had all kinds of flashbacks, hearing those big OB synth sweeps and pads from the 80's. The OP-X is a standout."
Matt (OP-X user)
"By far the fattest-sounding VST it has ever been my pleasure to use. Two thumbs up!!!" <!!--aaron-->
J.H. (OP-X user)
"FANTASTIC! The sound and the look really take me back. I wanted an OB-X so BAD when I was in college"
Moises Valerio, Producer
"...this pluging realy give that true analog sound"
Ttoz (kvr)
"...it sounds fantastic!"
T.B. (OP-X user)
"Such a great emulation! This baby is a KILLER !"
D.R. (OP-X user)
"This synth is destined to become a classic! "
J.K. (OP-X user)
"There is no other software synth that even comes close."
Flippertronics (kvr)
"I have to say this is impressive and on par with GMedia's clones"
Dewdman42 (kvr review)
"This synth is FANTASTIC. Its the near perfect 80's rock synth, but it fits many other styles as well. The SEM filter emulation is so spot on its scary. This is one of the fattest VSTi synths I have ever played"
J.R. - OP-X user
"All I have to say is: THIS THING IS AMAZING! I'm a big fan of the Oberheim sound, (especially '80s music), and have been trying to acquire an OB-X or OB-Xa over the years but no luck. The OP-X captures that OB sound accurately - I am completely blown away. This is what I have been searching for, and no finicky 20-year old hardware to worry about. If I sound excited, I am! Best $99 I've spent, hands down. I love it! I'm very satisfied. Kudos to you and your team on an excellent plugin!"
Mark Nicewander, Musicians Quarters
"WOW! I got the chance to actually play the OP-X Pro side by side with my Oberheim OB8. Same mix ran both through my Alesis Quadraverb 8 channel mixer. Gang this is the real deal, side by side with my OB8!! I loved the warmth, the sound of the filters, every patch I created on my OB8 I recreated on the OP-X PRO identical in sound!! I actually liked the sound of OP-X Pro over my hardware!! Yes the OP-X Pro is that great!! Thank you Sonic!!!"
OP-X and OP-X PRO in Soundmaker 9/07 print issue. Tasos Eliopoulos raves about OP-X and OP-X PRO in a comprehensive two page review!
"The sound is without exaggeration incredible"
"The OP-PRO and the OP-X are unconditionally recommended for any application"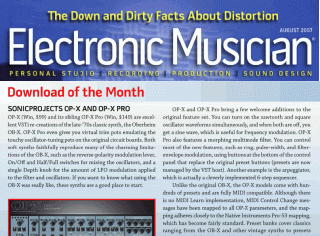 OP-X and OP-X PRO in Electronic Musician 8/07 "download of the month".
"...excellent vsti re-creations"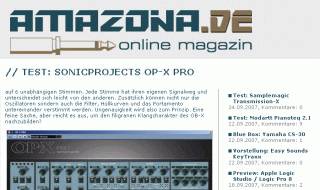 Comprehensive OP-X PRO review on Amazona.de, the best german online magazine
"There are many 70ies and 80ties synth emulations available, but the concept of the OP-X PRO is without competition"
OP-X and OP-X PRO in Mixxnow April print issue (SM). Comprehensive and very positive five page review.
"...a powerful load on the bottoms, liquid in the mid range and luminous, but never penetrating in the highs"
"...it hits the ability to give back the "feel" of the original instruments: organic, three-dimesional and in some authentic way typical for analog synths in general and oberheim synths in special"
OP-X and OP-X PRO in Keys 3/09 magazine. Compenensive four page review by Ulf Kaiser.
"Beautiful pads, clear-cut brasses, marvellous sweeps (...)"
"Classic Oberheim sound"
"With its discreete fluctuations the OP-X sounds broader, more lively and warmer than many competitors - simply beautiful. (..)OP-X absolutely convinces in every aspect."
"Unconditionally recommended"
OP-X PRO in Digital Music Magazine, No. 1 in Italy, issue 28. Comprehensive review, rated 9 out of 10 (10 for sound)
"Warm, creamy and homogenic sound !"
"SonicProjects has done a super job. OP-X PRO allows to bring back to the light the vintage sonority"
Luke Mourinet, Ruff&Jam Recordings
www.ruffandjam.com

Credits:

Kylie Minogue
Robbie Williams
Sugababes
Placebo
Scissor Sisters
"Our long quest to get that unique OB-X sound has ended with the venue of the OP-X. The OP-X gave us access to a range of unique sounds that couldn't be achieved with our current setup, on top of that it sounds rich,sweet, sits well in mixes and is without a doubt the best OB-X emulation to date. "
Mariano Saulino, Film and TV Composer & Producer. Credits: FOX, Discovery Channel, Nat Geo, Cosmopolitan TV and Universal Pictures.
"Being an OB-X user since I was a kid, the arrival of the OP-X it is a dream came true.The sound engine and graphic design are so deeply and meticulously crafted that the OP-X really captures the magic, while the new modulation routings open that warm and punchy OB-X sound to great new possibilities. It has became my #1 analog axe for every project I'm into. THANK YOU, SONIC PROJECTS!! "
Luk Zimmermann
Producer

Credits: Lunik, MiNa, Marc Sway, Roman Lamarr, Bliss
"The OP-X in my opinion is one of the greatest synth emulations ever made. I only can recommend it to everyone. It's being used in my new productions."
Dennis Alvarez
Composer/Producer

Current Project:

A.S.I.
www.myspace.com/asi
advancedsynthesizerinstrumentals.bandcamp.com
"The OP-X is one of those synths you'll find yourself spending hours playing! It is exactly what I've been looking for in my new project. Sounds just like the hardware at a fraction of the cost, plus all the advantages of digital! Thank you Sonic Projects!"
Listen to an instrumental track called "All Words" where OP-X was used for strings and lead:
Instrumental: listen
Stephen Hitchell, Producer/Remixer/Engineer

Founder of Echospace Detroit (best electronic album 2007) and Intrusion Imprints
"After a year of working with this plugin and examining its every function, its 99% there to the real deal and I haven't said that about one other VST plugin I have used EVER! Excellent job, this is now one of the first things i go to in all my recent productions, essential in every meaning of the word."
| | |
| --- | --- |
| | Chris Neville, Tributosaurus |
"The nature of the Tributosaurus project requires me to design a completely different set of sounds from the ground up every month. I rely heavily on softsynths and my OpenLabs Neko to pull this off, as well as a lot of older hardware. The one thing that has been missing from my rig is an OB-X, which was the synth I grew up with, and I've missed it terribly. The OP-X is without a doubt the ONLY softsynth out there that truly captures the Oberheim character - bravo guys! It is a joy to use, and the programming is very accurate to the original. Beyond that, the OPX-Pro gives so many more options that it becomes easy to create emulations of the Jupiters, as well as a plethora of rich and diverse sounds not found in any of the hardware boxes of the day - it's become my go-to softsynth for original sound design. Lastly (but not leastly), Stringer is awesome! how much fun is this thing? A TON of fun! It adds just the right sweetening to a track, and can add a little cheese too when you need it! Congratulations to sonicprojects - you are batting a thousand! I can't wait to see what you'll come up with next!"
Mistheria

Piano vistuoso, arranger and composer. Has worked with people like Bruce Dickinson (Iron Maiden), Neil Zaza, Anna Tatangelo, John Macaluso, Alex Masi, George Bellas, Barry Sparks a.m.m
"SonicProjects plugs sound absolutely fat, big and really musical which is the most important thing for a musical instrument… virtual or not! OP-X, OP-X Pro and Stringer have the powerful analogue impact we musicians need and, among all, I love the lead sounds so much!!!"
Mike Naglak, Producer
"This is a great ensemble. Very fat analog sounds. It is one of my favorite choices for synth textures. Truly a feat of programming. I'll be using the OP-X for years to come. Bravo!"

Curtis MacPherson, Illusion Productions
" I have been an Oberheim user ever since the first modular came out and have acquired the OB-8, Matrix 12, Matrix 1000, OBMX 12 voice, OB-12 and a Marion MSR-2 and I have waited years for someone to do a virtual Oberheim that was worthy of the name. The OP-X PRO has blown me away with its accuracy and detail to recreate the perfect Oberheim. There are no words to describe the excitement I felt when spending the first hour with this instrument... Simply AMAZING!!! Beyond my WILDEST DREAMS!!!!"
Jamie Jordan, Producer
"I have extensive experience with synths (2 x OB-Xa, OB-8, countless analogs & digitals, vst, etc.), and I must say that the OP-X has an excellent concept and execution, clearly a labour of love. I have a worthy clone for my studio, and never look back."
GuruOne: Composer / Software Engineer / Guru

www.mp3.com.au/GuruOne

Programmer of the ingenious GOMP midi-processor:

www.GuruOne.biz

Listen to a song done with GOMP and OP-X:

GOMP with OP-X
"I've been on a search, a lifetime journey, for the ultimate in analog in the digital realm. In fact, I'd almost given up and decided to solve the problem by myself... That was until I discovered OP-X. On first listen I was amazed at how warm this baby sounded. Memories streamed back into my mind from those classic 80's synth hits. I mean, hasn't the real synth been used on every track ever made? hehe... So I just had to have it. Once on my machine, I found the sound was exactly the same as was presented on the audio demos page. Awesome. This synth is a keeper. I use it on everything. If I had to fault the OP-X, my only minor quibble is that it consumes a lot of PC power, but I guess it needs to, in order to be so faithful to the analog emulation. Congrats on a wicked synth, Pete, which I will continue to use for many years to come :) "
Andi Haehlen, Wavebox Studios
"Already the online presentation and the sound examples have convinced me spontaneously. But to play the OP-X in the own DAW is again amazing. The sound develops an enormous power, a high brillance and still remains absolutely accurate in every detail. The handling is intuitive and great. The OP-X in my opinion is the most convincing tribute to a great synth classic out there."
David Polich, Los Angeles synthesist/sound designer
"I can't stop playing with the OPX! Over the course of 34 years I've owned and played every analog and digital synth ever made, and the OPX brings back the legendary sound in all its glory. Thick oscillators, phat lows, precise filters, unique modulation, it's all there. And it works well, something that can't always be said of new software synths. On a scale of 1-10 this is an 11! "
Aaron McClelland, DJ/Producer

Owner of the 2005's best selling label on djdownload:

www.djdownload.com/labels/menamusic

Listen to his track done with the OP-X:

OP-X Demo by Aaron McClelland
This track shows that the OP-X is not limited to vintage sunding stuff; its fat organic sound and synchronizing capabilities are perfect for dance and techno tracks
Clifton Cameron (ARS. Nova. Strata,Unyousual the Patron of the Art)
wwww.myspace.com/arsnovastrata
"The Sonic Projects OP-X is an amazing piece of work. The filters, the sound, the expressiveness, the play control, and the sound are mind blowing. I can definitely recommend the OP-X to anyone producing any types of music, scores, media, installation, basically anything that has anything to do with sound. The customer support is fantastic and that goes a long way. Trust me, the OP-X is magnificent. It's an easy 5 stars out of 5 stars."
Have a look at the clients list
jcn7 (kvr) "Hello Z, I just purchased it last week. After testing out the demo for awhile, and comparing it to my other VSTis, I came to the conclusion that it IS the replacement I've been searching for for my long departed OBXa. It has that Oberheim sound, thick and rich, and for me, it actually is FUN and inviting to play, because of it's ease to program and that gorgeous sound that flows from it. If I close my eyes while playing, I really do feel like it's my old OBXa again. ... I've tried to recreate some of my favorite sounds (Dennis DeYoung's Styx 5th's lead that he used quite a bit) on every synth that I own, but couldn't quite achieve it, but on my 1st try, nailed it on OPXpro. In this particular case it's all about the detuned portamento! Anyway, I love it and would never part with it! Hope this helps..."
Jason Mask (OP-X User)
"I have an OB-X, but it only has three voices. It's also pretty noisy. But I it's a beast: very powerful and loud. OP-X does a pretty good job of emulating that power and nastiness. Of course, it cannot completely recreate it, but it is *extremely* close on a couple of important points: the filters, the rotating voice allocation, and the fact that each voice had its own, shall we say, "characteristic." The OP-X *perfectly* recreates that element of this mighty synth. Very impressed with that. The added features are wonderful. Also, thanks for adding the Ring Mod. I always wanted my OB-X to be even more trashy and exotic! Now it can be..."
R.H. (OP-X Pro User)
"After checking the OP-X PRO in the recent days these are my findings: The oscillators and filters sound sensationally good for my ears. The envelopes show that typical oberheim characteristic. There's a really great sounding sync which is quite rare in virtual analog synths, software or hardware. The setting up of sounds is an incredible great experience. My Matrix 1000, which I own and am able to compare, has no chance against the op-x pro any more. In a blind test I would say the matrix was the plugin and the op-x pro the real thing, not vice versa. Recently I've set up a brass sound with a quality I've never heard before from any other software synth and only very few harware synths. I've become a real fan of the op-x pro - it really has that famous oberheim sound."
J.C. (OP-X user)
"The OP-X is a triumph of virtual synth engineering. I have just loaded the software and explored the merest fraction of the presets and I am in synth heaven! This is without doubt already my favourite virtual synthesizer."
B.S. (OP-X user)
"I just wanted to let you know that your synth is awesome! I played it the other night in a show and every musician in the place was asking me about it. It cuts through the mix without being overbearing and when I used it for solos, it has that nice fat analog tone I've been searching for. Thanks again for all the help and for providing a great product!"
R.B. (OP-X user)
"I must say, after having used OP-X for over a year now, I'm still amazed every time I play it. Having reevaluated my opinions on softsynths very recently, I think it has to be said the OP-X is the most realistic analog VSTi."
stdietmar (kvr)
"I have upgraded to OP-X Pro after Christmas and think this is one of the best sounding synths at the moment. It has a direct, raw quality (reminds me a bit of Oddity, but of course with another sound), and has become even more versatile with the changed filter setup."
Indyman (cakewalk forum)
"Okay - slightly OT I admit but I just had to tell you guys about this. I'm a big fan of the OB sound , especially '80s (Rush, Styx, Van Halen, Prince) and have been trying to get an OB-X or Xa for some time but to no avail. Prices are high and you're looking at a 20 yr old piece of hardware. Then I stumbled across this plugin from SonicProjects, called OP-X. This thing is amazing! After trying the demo for 10 minutes I had to have it. This thing nails the OB sound like you wouldn't believe. ... I consider this the best $99 I've spent on a plugin hands down!"
M.N. (OP-X user)
"I just installed OP-X Pro and I must say, this is the best software synthesizer I ever heard :) I haven't had much time with it yet, but I can tell one thing: it sounds warmer than any other soft synth on the market. thank for creating such a wonderful product!"
F. Warren (OP-X PRO user)
"Your emulation of the Oberheim is outstanding! I have owned many of these beasts and you have nailed the sound. Thank you so much!"
Joel (OP-X PRO-II user)
"I just want to say that the OP-X PRO II is a-ma-zing...it's sounds so warm and real. Great job, great job."
Saxman2000 (kvr review)
"If you're looking for a realistic, sweet, FAT analog vsti, this is the most realistic, sweetest, FATTEST one I've ever found!"
C.P. (OP-X user)
"Congratulations on a job well done! It's a synth full of character! And the eighties presets are just amazing."
J. Nielsen, Denmark
"I´ve just purchased the OP-X Pro upgrade and the Stringer. They are OUTSTANDING!!! The OP-X Pro is simply the BEST ever done together with PPG 2.V and TimewARP 2600 in my humble opinion."
Stratification (kvr)
"Have to say that this is one of the 'meatiest' synths that I've played with. I've just got the Virus plugin for the Powercore; - whilst the Virus has totally trashed nearly all of my softsynths in terms of 'this sounds like hardware', the OP-X is pretty much right there with it."
D.T. Davies (OP-X user)
"I want to commend you and all the people involved at Sonicprojects for creating what I feel is the best software synth I've ever heard. I've been playing Oberheim synthesizers since the 80's and if someone would have told me I could get that same sound and flexibility from a software program I would have said "Knock it off ". I don't know how you did it but man am I glad you did it. You guys rock!"
masterhit, soundandrecording forum
OP-X emulating Jupiter:
"Who owns a Jupiter can do the comparison - there's a Jupiter bank shipped with the plugin. I'm carefully not choosing a superlative, but those pads, basses and sweeps catch the roland typical really very very exact. I would not claim that this sounds significantly different or it could told apart in a blind comparison. The oberheim sounds too are abolutely top notch."
Claude Fox
OP-X PRO-II user
"After spending nearly the whole last night in front of the OP-X PRO-II listening to the presets and doing some little arrangements i can say for shure, this is the best synth plug i EVER bought. It blows everything out of the water!"
Perry D'Armond
Music Producer
"I started playing synths back in the '70's and have owned some great analog hardware. Moog, Sequential and Oberheim among them. I started moving to soft synths a few years ago and the OP-X PRO-II really stands out from every other analog emulation. I love the capabilities of the other soft synths I use and the OPX is not a replacement for them. However, for the sound of analog keys of the 80's Sonicprojects absolutely nailed it! Keeper!"
Justin Taylor
Composer
"The spirit and sound of the original Oberheim synths are apparent in this exquisite virtual instrument. I've been using the OP-X RRO-II on all my albums and will be continuing to use it into the future on my own records as well as other productions. Long live OP-X and Sonic Projects!"
Eugene Shnayder, Trance/House/Club-Producer
Papa Huge, Little Lisa
"OP-X is a phenomenal analog synth, reborn from the ashes of the legendary OB-X this analog voltage powerhouse is a unique addition to any studio junkie. I use it in many of my electro house and progressive trance projects. It works wonders, and slices through mix like a machete!"
Adam (Synthoid)
"I have purchased nearly $2000 dollars worth of Analog emulative VSTis and this has been an amazing experience for me! Why? Well; I have spent a lot of money for synths from several well known software companies and never have I gotten this close to the look and feel of real Analog Synthesizer with any other emulation! I own em' all, CS-80V, MinimoogV, Jupiter-8V, Prophet-V, and some other 'cheap' emulations, and hundreds of free ones. However, none of them capture the sheer instability of Analog. Some will drift in pitch, some will have extremely small changes while cycling through Voice Cards, but this? This is just amazing! A separate: Filter, Envelope, and Pitch for all 6 voices! Magnificent! You guys really know your stuff. And for those of you who are still skeptical about buying, think of it this way: For 50-100 dollars less, you can have the world's ONLY Oberheim Synthesizer emulation... and BOY does it emulate! Thanks for making a 'Analation" that really delivers, people. -Synthoid"